BBAP – What Brummies Will Want To See…
Recently a member of the Public; Edward Chitham wrote into the Birmingham Post and had this to say;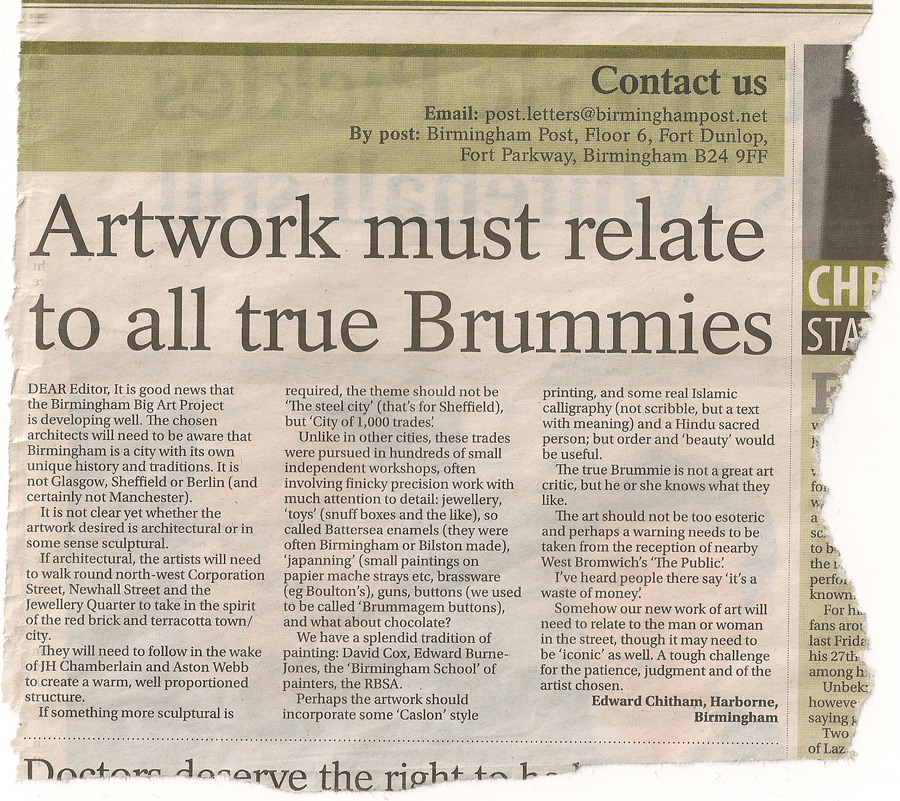 "Dear Editor,
Edward Chitham, in your Letters 14th January, is correct in advising that the new public artwork currently being planned under The Birmingham Big Art Project, will need to relate to the man or woman in the street. I appreciate that this is a tough challenge, particularly as art is so subjective and Birmingham is so multicultural. We each have a differing opinion on what good public art is. It is true that Birmingham is still regarded as many as the city of 1000 trades.
Today though, I suggest many would disagree. It is certainly a city which is re-inventing itself; a city which has just been named as the most investable city in the UK.  A vibrant, cultural and diverse city which has a rich heritage. We need to build on this, particularly culturally and produce a brand-new sculpture which will make people feel good and proud about Birmingham. This new artwork must indeed be relevant to Brummies, be understandable, educational and ambitious enough to brand the city globally, becoming a recognisable icon over time. In short, it must have a "wow" factor of extraordinary proportion. It has to be capable of attracting more tourism, inward investors and create a wealth of employment opportunities.
So all these factors are in front of mind as we are about to shortlist the 9 artists down to 5 when a steering group meets to consider recommendations from a panel of artistic curators who have just met to examine work from the 9 artists who put forward their ideas of how such a permanent public artwork could look.
We need to raise substantial funds for the project to succeed, some £2.5m. Pretty ambitious, but then we are talking about Birmingham. Should anyone reading this wish to help in any way do please take a look at our website www.birminghambigartproject.org.uk where you will find a "donate" button! If successful, we will plan an unveiling ceremony on the selected site by Millenium Point, Eastside, in 2018.
We have an Events Committee which is active. We intend organising a themed fundraising ball at the Hyatt Hotel on 3rd June as a prelude to our public consultation launch on 4th June when there will be a formal civic opening and lots of side stalls/events coinciding with the public viewing of the 5 artists' maquettes, artists' models, in Millenium Point, an exhibition which lasts 3 months before moving to the city's new public library for a further 3 months and finishing at Birmingham Museum and Art Gallery.
We also have a parallel schools competition planned, involving 1000 kids aged 14 from 10 Birmingham schools who are being invited to demonstrate what they think public art should be around their own environment. Their ideas will be on display in BMAG's Gas Hall during the summer. It's the biggest venture of its kind ever attempted in the UK, arguably the world. We are really keen in our project having a major educational slant.
So, yes, Mr Chitham, this is an ambitious project, but one many believe in and which will directly benefit this city, its citizens and the wider region.
GLYN PITCHFORD
Chairman
The Birmingham Big Art Project"